The Sylvania Xenarc High Intensity Discharge lighting systems represent a new dimension in driving. It is a technological breakthrough uniting a passion for automotive lighting performance and a commitment to safety. It is the new standard, delivering more light while requiring less maintenance. Xenarc is true HID, the innovative illumination that was once the exclusive domain of high-end imports. It illuminates, creating a whiter, more intense, brilliant light that obliterates the darkness. Xenarc HID is brilliant. It is legal. And it is here now!
The Xenarc X2010 Ford F-Series Headlight Upgrade Kit offers enhanced styling and all the performance of HID lighting. If you own a Ford F-Series F150 or Expedition (model years 1997-2002), then this product will fit your vehicle. To optimize the lighting potential of your vehicle, use this upgrade kit in conjunction with the Xenarc X1010 Auxiliary Low Beam Kit. Complies with all legal standards.
Xenarc HID isn't like conventional halogen lighting since there are no filaments to break or degrade. It generates light by creating an electrical discharge between two electrodes, within an arc tube. The arc tube is sealed in a glass jacket to filter ultraviolet emissions. A state-of-the-art electronic ballast that ignites and sustains the arc that completes the system. Xenarc bulbs last ten times longer than halogen bulbs providing a life of up to 3,000 hours. The advantages of Xenarc HID over Standard Halogen bulbs are endless. In addition to a longer life, they offer 3 times the light output, enhanced peripheral vision, improved down-road illumination, whiter light, and 65% lower power consumption.
This kit complies with Federal Motor Vehicle Safety Standard (FMVSS) 108, Canadian Motor Vehicle Safety Standard (CMVSS) 108 and Society of Automotive Engineers (SAE) J2009 for Discharge Forward Lighting Systems.
The X2010 kit includes:
Two Xenarc HID Head Lamps with integrated Electronic Ballasts
One Wiring Harness
All necessary mounting hardware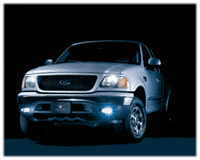 Ford F-150 with Xenarc X1010 Auxiliary Low Beam Kit and X2010 Ford F-Series Upgrade Kit